---
Amana & Luxaire Air Conditioners & Heat Pumps
---
These air conditioning/heat pump Q & A's will help you quickly figure out which system would be best for your home.
Should I invest in an air conditioner or a heat pump?
Air Conditioners: It may sound strange, but an air conditioner doesn't make cold air, it actually takes the air in the home and removes the heat from it. An indoor coil mounted in the duct near the furnace traps the heat contained within the air, then transfers that heat to the outdoor condenser to be expelled outside. In short... It sucks in 90 degree air, pulls out 20 degrees or so of heat, and then dumps the same air into the house at a much lower 70 degree temperature. POW, you have cold air!
Heat Pumps: They look like an AC, they act like an AC, but they have one big difference. They can run backwards. During summer months a heat pump will work no different then any other AC, however, during winter months a heat pump pulls heat from outside air (trust us, there is still lots of heat contained in 35 degree air) then transfers that heat into the house making you warm and cozy!
So who should have a heat pump?As a company we base this decision upon the homeowners main source of heating fuel. At the current rate of natural gas, a homeowner will spend less money to heat the home with natural gas then they will to heat the home with a heat pump. However, if the homeowner's current heating fuel is propane (LP) or fuel oil, the cost to heat with a heat pump is much cheaper. With that said, we already know what your next question is.
How much money will I save heating with a heat pump vs. heating with my current propane furnace? Well the answer to that question is different with every home but here are some averages.
At $2.00/gal for propane... $800-1000 per year
At $2.50/gal for propane... $1100-1300 per year
At $3.00/gal for propane... $1400-1700 per year

As you can see, the savings is very, very significant! It is important to know that a heat pump works with your current propane furnace and will only supplement heat on days when it is 35 degrees or warmer. In Michigan, most days are above 35 degrees throughout fall, part of winter, and most of spring. We always like to ask our propane customers this simple question, "Would you like to install an air conditioner that will just cost you money to own, or would you like an air conditioner that will pay for itself in just a few short years?"
What does SEER mean, and what SEER unit should I buy?
Seasonal Energy Efficiency Rating or SEER is the rating given on a piece of air conditioning equipment that determines how efficient the unit is. SEER ratings range from 13 SEER-23 SEER. Higher SEER ratings equal lower utility bills. The government mandates a minimal SEER rating on new units to be 13 SEER. Our customers most often choose 14 or 16 SEER units. Higher efficiency units typically have better warranty coverage and often times qualify for utility rebates and tax credits.
What are the advantages of getting a two-stage unit?
There are lots of benefits to consider when deciding to invest in a two-stage air conditioning unit. If a homeowner's house required a 3 ton air conditioning system, a two-stage unit will offer a 1.5 ton stage and a 3 ton stage. Once a house has reached the desired temperature of the thermostat, it no longer needs to run at full capacity to maintain temperature. The first stage will then kick in when the thermostat calls for cool, and maintain the house temperature using about half the energy consumption. The first stage, when activated, will also help to pull extra humidity from the air eliminating that clammy feeling within the home. Simply put, two-stage air conditioning/heat pump units save money, add comfort, and lower humidity.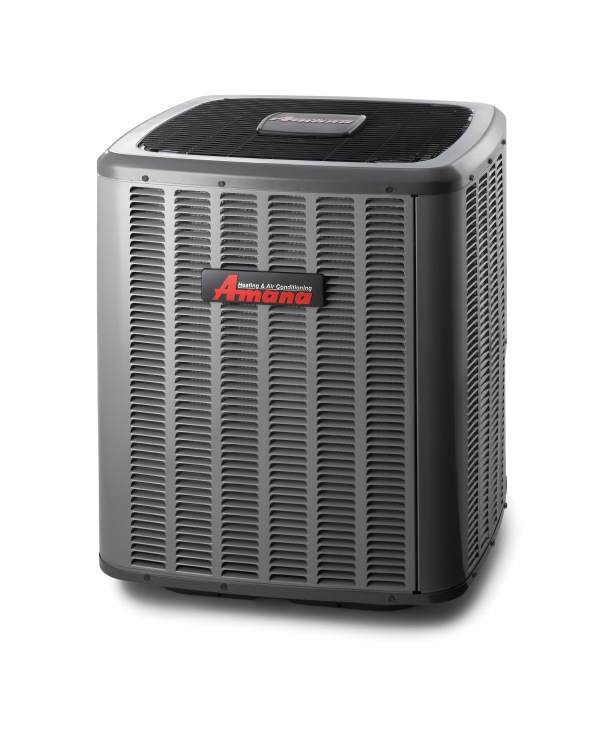 Our Air Conditioning packages start as low as $39/Month or 12 Months Same As Cash.

Plus rebates up to $300.00!

Contact us today to set up a free estimate.

Call (517) 323-3314 or you can schedule an appointment online by clicking HERE.

We accept cash, check, credit card and we also offer easy financing.

---
---
Air Conditioning & Heat Pump Service, Repair, Installation & Replacement
Specialists serving Bath, Charlotte, DeWitt, Dimondale, Eaton Rapids, East Lansing, Elsie, Fowler, Grand Ledge, Haslett, Holt, Laingsburg, Lansing, Mason, Muir, Okemos, Ovid, Perry, Pewamo, Portland, Potterville, St Johns and Williamston and all other towns within
Clinton, Eaton and Ingham county Michigan.